The last time I went to have my hair done at Black Hair Salon, my stylist, Cat found my hair too frizzy and dry so she told me to come back to do the Kerasilk treatment! Well its a treatment that will tame your frizzy hair, making it straighter and more manageable!
I got moved to the seat nearest to the entrance because using the tongs for this treatment will make the entire place very smokey, dont worry tho, your hair is in good hands!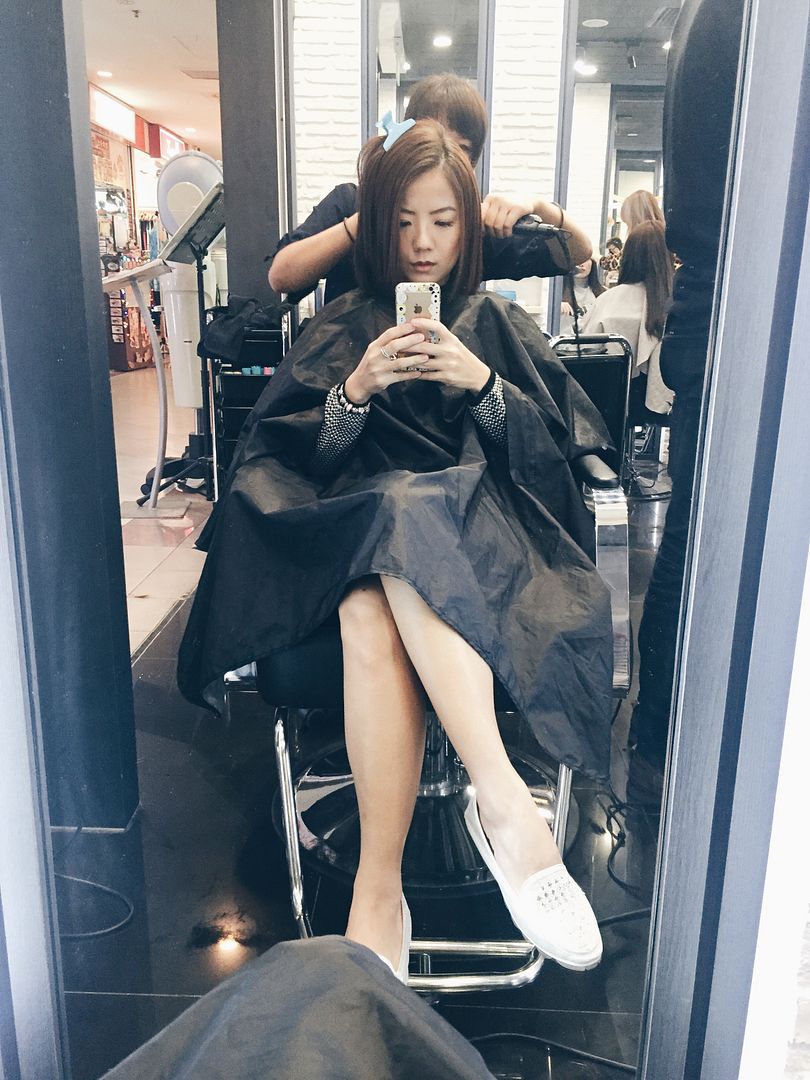 During the treatment, I realised that my dark coloured hair has lightened and I had brown hair! haha the treatment apparently will lighten your hair colour so be prepared if you're thinking of doing this treatment!
At this point I found my hair tooo straight & I was worried it would look too flat. Because my face is pretty big and head is even bigger, I cannot have too flat hair that will make my face appear even bigger.. I told Cat about it and she assured me that it wouldnt be too flat because she can reduce the intensity of the treatment using the tongs. :)
I was really satisfied when Raymond helped to do up the finishing touches after rinsing the treatment off. He tong-ed (LOL) it really naturally and my hair felt really bouncy and manageable after that! Why can't I seem to do it at home myself...
Black Hair salon went through a makeover earlier this year and they have really good lighting now! Remember to snap a picture of yourself and tag them in your Instagram pictures to share how awesome your hair is after their hair services! :)
Roamed around Bugis and took several shots because I really love my hair now. :)
Remember to quote ZONIA RAYMOND for 10% all hair services and if you follow me, you'll be kept updated of their upcoming promotions which are always so enticing!

Black Hair Salon
The Bencoolen, 180 Bencoolen Street
#01-28
Singapore 189646 (Opposite OG)

For appointments, call 68359976/62423945 or whatsapp 92723236. :)
Thank you Cat and the team at Black for always pampering my hair. :)